In really cool news, there will be a new cancer center in Everett opening soon (read about it
here
. It's going to be paperless, and of course very high tech- just look at the list of technology at the end of the article- pretty much all new machines (the rest they are moving over in stages from what I understand). Not something I would normally mention on my blog, but since my dad is part of the partnership, it ranks under the "pretty darn cool" category in my book.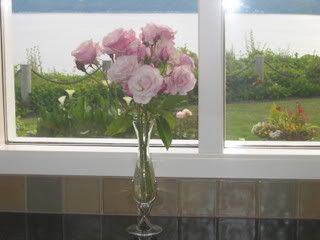 New vase! With flowers from my mom's garden- not the roses in the background though!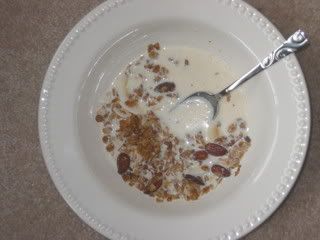 Organic granola (and milk of course)- coconut almond, from Tall Grass Bakery. I'm pretty sure they are in Ballard.
Biscuits- also organic, 'cept the baking powder! With a drizzle of
Moon Valley
raw honey on top- more flavorful by far than any honey you buy in the supermarket. MM. Perfect mid morning lunch!
Catch the
new dishes
and flatware? I'll have to talk some day about how obsessed I am with Pottery Barn and the like.