Ok, I know everyone is probably reading Harry Potter right now...but I am really excited to announce that
we now have sample cards!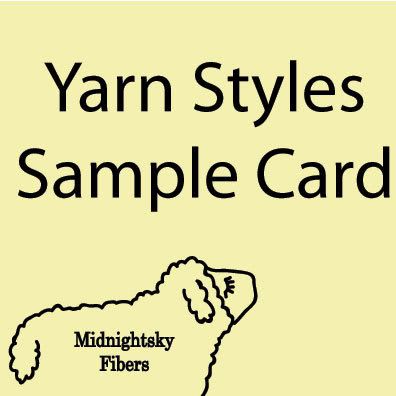 Yarn Sample cards are pretty awesome- if we do say so ourself! Sometimes it is hard to get a good idea of what a a yarn looks like without being able to see it in person, and that is why we now have sample cards! Each sample card comes with a small length of yarn or fiber for each sample. Please expect some variations in yarn width and style for the handspun- for example, expect some variation in the wpi (wraps per inch) of different dk-worsted weight yarns and order enough for your project accordingly.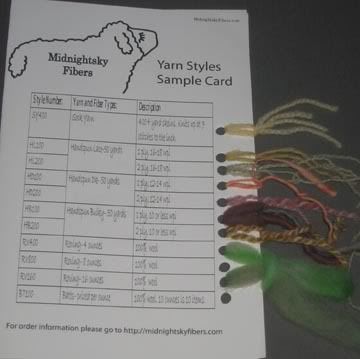 Sample cards include the following samples:

¨ SY400 Sock Yarn 400+ yard skeins. Knits up at 7 stitches to the inch.
¨ HL100 Handspun Lace-50 yards 1 ply, 16-18 wpi
¨ HL200 Lace-50 yards 2 ply, 16-18 wpi
¨ HD100 Handspun Dk- 50 yards 1 ply, 12-14 wpi
¨ HD200 Handspun Dk- 50 yards 2 ply, 12-14 wpi
¨ HB100 Handspun Bulky- 50 yards 1 ply, 10 or less wpi
¨ HB200 Handspun Bulky- 50 yards 2 ply, 10 or less wpi
¨ Roving and Batts (1 sample) 100% wool