This is what happens instead of studying for a final:
So, I logged in to my site today to recheck the check out process, wondering why no one ever used the CC option. I discovered two things:
1.) That the shipping modules for several options had magically (read: I managed to switch them and not realize they would no longer work) disappeared and only the table rate was left. Not a huge biggie, but kind of helpful for people to have more than one option.
And
2.) The checkout has CC and paypal options. Only...the pictures for the CC's said "my card" like...8 times. So I go to the template to delete them. Only they don't disappear. Well, crap. Where the hell else are they? Go re look at images, find out they are ALSO in ANOTHER template, delete. Gone. Upload single file this time depicting all the CC I take. Will fix it later to be a rectangle and not square. Proceed to feel proud of myself for beating my template once again.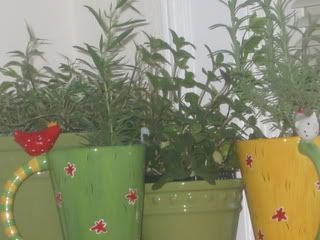 In the name of also avoiding studying, more plants have been gained. There are now two type of mint, tarragon, lavender, lemon balm, and oregano. I used mugs to pot them, and ended up putting most of them in my kitchen window where they are more likely to get more sun.
Tatting, lots and lots of little motifs and other somewhat pointless but fun little things to make. This type of thing always reminds me of
Posie
.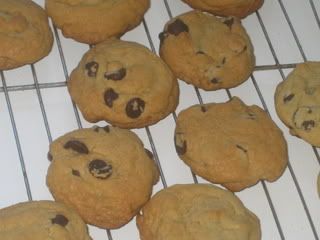 Lots of cooking! I'm trying to be really good about eating organic, so these cookies are totally organic. Yum. They are kind of hard to eat with braces though. I've had to start carrying a pocketknife (one of my really large ones, so there!) so I can slice my apples and pears. I used to carry a pocketknife all the time but stopped when I had to go through metal detectors all the time.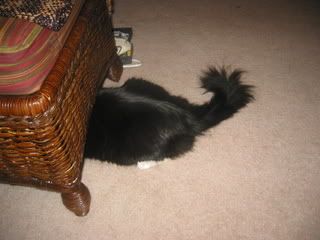 And finally, I have been spending lots of quality time with the cat, and trying to keep him from eating my icecream or corn (sadly cut off the cob) when I get up. Zeblith finally met the cat yesterday when we headed up to my place before a stirfry-cooking-dilbert-watching-avoiding-study-fest. (Zeblith and Neptune also don't study for finals)