No new items to update really this week- I'm busy working on sock yarn (soon to arrive) and on colorcards for my handspun! I do have
several items on eBay right now
, more items I have had on my website for awhile will be added soon.
Happily Handmade ended a couple days ago- Thanks again to everyone who entered and made it a great contest!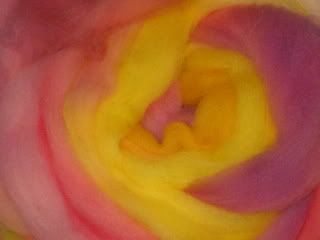 The fiber I am spinning- long draw and 30+ wpi (have to measure exactly). I will probably ply it back on itself. The roving shown is in my
"Papaya Sunrise"
colorway, which will be up on my site soon*, dyed with long stripes. Makes it ideal for navajo plying. I'm planning on doing some 3 ply yarns for a fair of colorwork socks for myself some day soon with the long stripes of color.
Random sidenote: I feel weird calling it Navajo plying or referring to techniques as "Navajo" since they are really called
"Dine"
(the people in Navajo).
In other exciting news:
We have a credit card processor of our very own!
That means you can now buy on my site with a credit card, in addition to the usual Paypal, checks, and money orders. Now you can pay without leaving our secure (once you log in) site!
*Email me though if you want some now :) I am dyeing it to order.