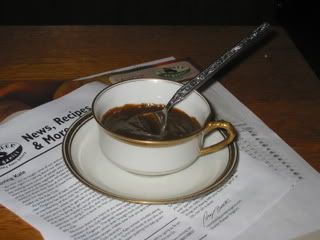 I've had an obsession with pudding lately. Ever since I made the
Pudding that Alicia made
, I have had a need to have pudding! Now as most of you know, I can't just grab a packet of pudding of the shelf at the grocery store- no gelatin for me! Besides, homemade pudding is actually not much more work for me to make- lots of dirty dishes either way!
Because I never have milk in the house, I usually use dried milk or soy milk as a base, and it seems to taste fine either way. Of course, it tastes the best with half and half or whole milk as the base, but how much pudding should one person *really* eat? (Answer: a whole batch of course!) I make my pudding with brown sugar and lots of extra molasses- I think both add a more interesting depth of flavor that I don't get with granulated sugar like in recipes for plain ol' vanilla pudding. This time I also added "chai" spices (redundant, no?) and cinnamon to the mix, which makes the warm pudding even tastier, as you can see by the already halfway empty teacup.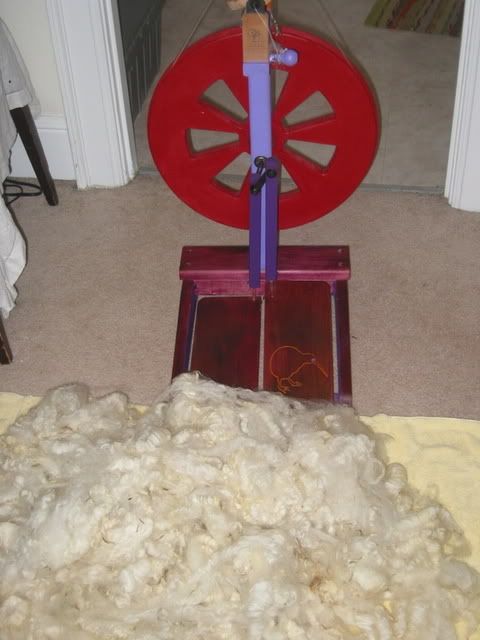 Too bad you can only "drink" the pudding for a couple minutes, otherwise I would probably eat a lot more of it while spinning. Here you can see part of a fleece a friend* gave me from Salt Spring Island. It's a nice cream color, and since it was light in lanolin, I only washed it once with a nice long soak before letting it dry. There is just a touch of lanolin left, just right for making socks, the likely end product, and just enough left to help keep my hands from cracking from all the calluses I have from spinning and winding so much yarn.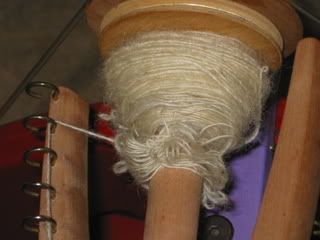 I haven't been processing the fibers consistently, my bad. I'll card a bit with my drum carder, a few with the hand carders, flick card a couple other handfuls, or just pick it up and spin right from the lock. You can't tell in the pictures, but there is still great lock definition in the fleece, and very little VM and second cuts, so it is nice to spin as is. I'll probably settle on spinning it after dying and running it through the carder a couple times- it is easier on my hands to spin long draw worsted yarns from the fold of batts.
*The one who painted that particular wheel that kick-ass color!