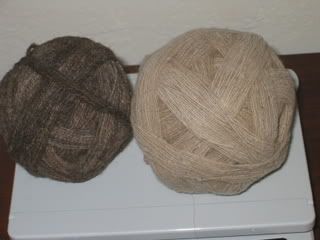 A handspun yarn profile.
Back-story:
I'm really excited about this new find! I love finding yarn from unusual sources, and it gets major bonus points for being natural!
On Thursday, we had a speaker from a nonprofit come in to speak with us in my weaving class about a nonprofit she had started in Peru to help weavers of traditional textiles to keep up the tradition and make a living, as well as to help provide education to youth in these rural villages. Hearing Ashley speak about it is really awesome- she is so passionate about the nonprofit and the people and communities it is helping. You can read more about the nonprofit on their website here(the FAQs and info pages are especially helpful): http://mosqoy.com/
Yarn Info:
Mosqoy (means dream in Quechua) primarily focuses on textiles, especially hand woven pieces all done on backstrap looms. Dyes are natural colors (like the yarn above) or natural dyes from their own areas- part of the goal is sustainability of traditional textiles and maintaining the environment.
Yarns are densely spun single ply fingering weight yarns meant mostly for weaving (but you can of course knit w them!)- so they are strong and smooth. Natural colors were $8 a ball and dyed yarns depended on the dye for the price ($30-45 per kilo I believe). My 2 balls of yarn weigh 15 ounces, and the one is smaller (because it's a 2 ply), so it's really a great deal.
If you want to get some of this yarn too, please know it's not on their site yet! But you can email Ashley (ashley(at)mosqoy(dot)com) for info about pricing on what colors of yarn she has available (weavings too!). It might be helpful to mention to her the Jenn/MidnightskyFibers told you about the yarn so she knows why you are asking and that it's not out of the blue- I did warn her though that I would be telling people about the nonprofit!