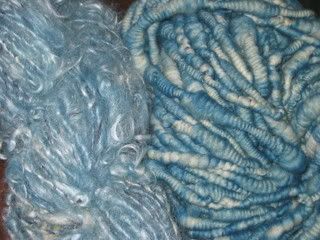 Blue Moon and the Icicle Parade
Indigo is one of the only blue natural dyes. Being a very pH sensitive dye and rather time consuming to do, I usually only dye wool roving and sock yarn in my indigo vats. This time, however, I broke out the mohair locks, angora, and a coil-spun wool I had sitting on my wheel.
A set for your escapades on the winter wonderland (expect this to be a theme around here in the very near future).
Mohair- Super bulky spun from mohair locks around a cotton core in deep purple with angora (rabbit) locks also dyed in indigo spun in at random intervals. I dyed these in a variegated hue, then selected locks at random as I spun. This yarn has a super halo, with lots of shiny curls. 55 yards.
The matching coils yarn is wool on a cotton core and dyed at the same time. Coils yarns are time intensive to make, and take lots and lots of singles spun up. This yarn is super bulky,coils up to 1 INCH across. Yes, you read that right, coils are an inch wide. 40 yards.
These yarns are best paired together and/or with an additional yarn due to the weight and bulk of the coils yarn. Enough here for a lovely scarf knit up on big needles (at least a 15 to really show off the curls and coils).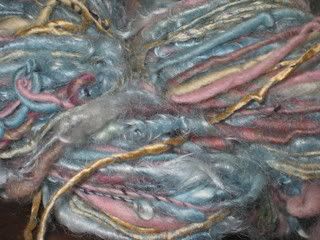 Rapunzel in Snow Boots
All naturally dyed and core spun around a cotton core to make this super bulky yarn extra fluffy! Naturally colored cream soy silk, indigo dyed blue mohair locks and soy silk, and many carded colors of wool. 120 yards, super bulky.
And someone, please tell my cat that my hot chocolate- complete with vegetarian marshmallo fluff on it- is NOT for him. He seems to think it is!