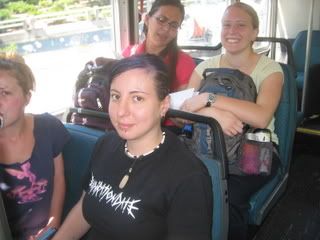 Classmates wondering wth is going on and WHY JB has been given a camera. They were hiding in the back of the bus, so they missed a bunch of our very lively discussion up front about the nature of graffiti on Cap Hill.
We pretty much got kicked out of Nike downtown, they were pretty nervous when we sat down in the shoe section. Apparently they were concerned we would start staging a protest. Really, we were just talking about the anticonsumerism goals in postindustrialist society and the problems with comodification, I swear!
On the way down we violate the rules of the bus.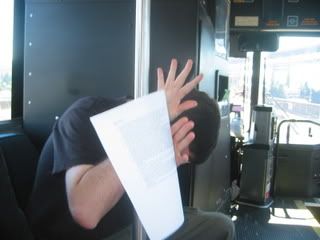 Violating rule 2- taking pictures or paying undue attention to someone else on the bus. (As far as I am aware, these are all people that are in my class or roped in to our rather lively discussion on the trip downtown, not just random people)
I'm pretty sure this guy is purposely ignoring JB as she takes a picture.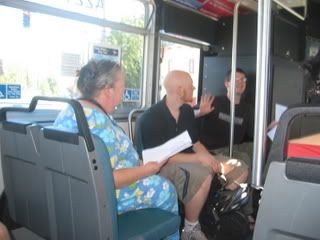 Violating rule 1 of the bus- no talking to people you don't know. They surrounded the guy and started talking to (at?) him.
Sadly, no pics of the Nike excursion, that would have really freaked the manager out. Maybe asking people why the floors were divided by gender (and assuming I wanted to wear the female clothes) was a tip off... but really, WHY is there a treadmill with the guys shoes but not the girls (a floor up!).
The dialog about creating consumerism and desire was varied and vocal, both inside and outside the store. Since we were close enough to Pikes Place I managed to convince a couple people to head down there will me for some donuts instead of out usual drink at the bar. Funnily enough, everyone in the group had been vegetarian or vegan for a length of time, though I think I was the only one still strictly vegetarian, though most limited their meat in their diet quite a bit. Woot!