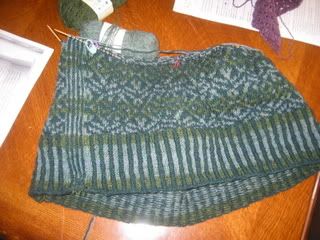 Colorwork vest...well, it continues. It is just a little too big for me, but that is ok since it isn't for me anyways! Can you see where I chopped the steek to get rid of a twist?
Up close. Spindthrift Shetland is a great yarn to work with for colorwork. I chose nice, tweedy colors that really blend in to each other. The contrast in them doesn't really show the differences in color quite right though. I wish this vest was for me!
Peeking at some ends. In colorwork, I carry the ends behind when I switch colors so I don't have to weave them in. If it was for me I would just let them be and sew them when sewing the steek, but since people tug on it at the shop that might be a bad idea!