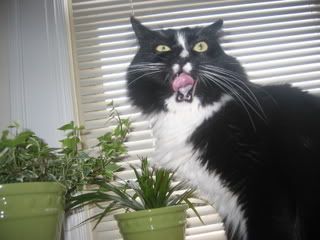 This is kind of how I feel after 16 hours of work this weekend and a long long day at EH and a full schedule of classes complete with lots of essay writing this week.
The
LYS tour/shop hop
was this weekend and we had HUNDREDS of people in the store, it was really, really crazy. The
Bear
that Jessica made for the free pattern was a HUGE hit. We had two people who finished up the tour at our store- that's a lot of stores in 3 (or 2 for some people) days!
That picture would be Joey after I caught him
eating my plant!
.
Of course, he only does this when I am IN THE ROOM. Go figure, right?