How do you feel about scalding (195-200 degree scalding) hot lanolin mixed with a good dose of ickiness, dirt, and more dirt all combined together in a 1ply of which you are scouring kilos and kilos of it? Now try doing that at night! Lots of orvus paste, some hefy dashes of soda ash, and hours later and the water for the darkest wool we are scouring was finally running clean. Thanks K for staying so late- those dang pots are way too heavy for one person to lift, and siphoning off the water to change it takes forever when you have three of the boiling on you all at once!
The propane burners kept blowing out- in just a few spots- so the pots would have to be lifted off the burners to relight. Mind you these things are hot and HUGE- think your pot for soup is big? Those pots would only hold a 1/10 of the liquid these do, if you were lucky- ask me how I know! Soup pot sized buckets make a great siphon for these things, but even dumping them in to larger 20 gallon buckets takes a long time to empty the pots so they can be refilled with clean water, reheated (while rinising and spinning out the yarn in a a washer carefully!), and rinse, spin, repeat until the water is clear. Since we are matching dyes it is doubly the more fun.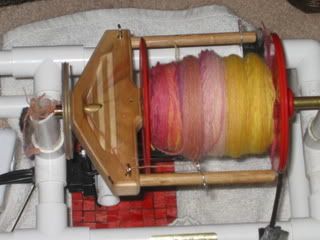 I made up for the fun and late (left at 9:30 pm) night of scalding hot lanolin by spinning up some of the roving I showed every several posts ago. It's a fine weight now, sock-dk when plied x3.