Well, I am finally home at my parents for a couple days- can you say free laundry that doesn't kill your clothes? My week here will be spent mostly catching up on past due events- getting my car checked out (it is fine and fixed) and going to all sorts of fun doctors appointments.
Remember the one suggestion of the business advisors? Twenty minutes- most of which was standing in line waiting- and the problem of not having a credit card has been fixed! I love my credit union.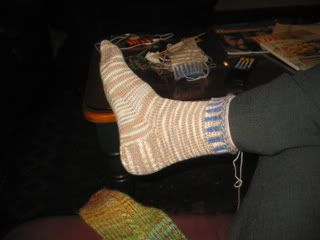 Being at home and running errands sans my own car for a day gave me a chance to work on my latest Lorna's Laces Shepherd Socks. They have a simple two color purl braid at the top, followed by some corrugated ribbing, before heading in to an extra long gusset and a perfectly grafted toe. Be lucky that my slacks are covering my legs- I've been informed that it has been way too long since I have shaved, which doesn't bother me in the least.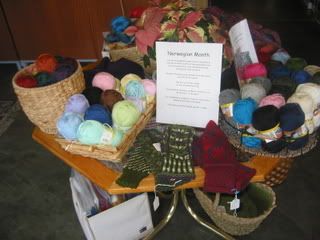 The table above is in the front of the shop…you will notice that it is Norwegian month where I work! What a great time to be teaching colorwork, eh?
(
Gloves from left to right:
freeform wrist warmers (no pattern), Fair Isle wrist warmers (pattern for the store) Naturespun gloves (my pattern for the store), Mittens (no pattern) that I knit awhile back during lecture classes)
I taught the first class for the intermediate level colorwork class on Saturday. We had a great class, and the students were able to pick up the techniques quickly. They seemed to really enjoy the pattern. We are using Naturespun Sport for the mittens, one of my favorite yarns to use for colorwork, especially when teaching. It is sticky as only a wool yarn can be, not hugely thick (thinner than Heilo, one of my other favorite colorwork yarns) so people have the chance to work on a small scale and produce a delicate pattern, and comes is a nice variety of colors.
For the class I am teaching, I wrote the pattern to reflect a more open gauge than what I would normally use in actual colorwork for the sake of speed. Naturespun of course lends itself quite nicely to this application, production a fabric that still looks nice but works up easily and relatively quickly for the students.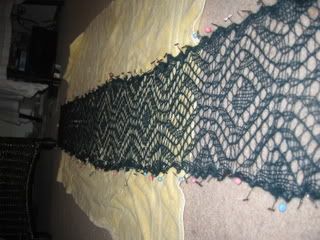 The qiviut scarf is done blocking- maybe you remember the
scarf as it was blocking
. Clearly, I did not have enough pins and was too lazy to block with string like usual. I am happy to say, it looks even better on the model. Maybe this will inspire some other people to try qiviut.
This was MAYBE 210 yards (most skeins are 220, this one had a couple breaks that were no fault of the yarn. I was really surprised not only by how much it blocked out, but by how much the yarn bloomed- I was worried that it wouldn't bloom as much as it is "supposed" to.