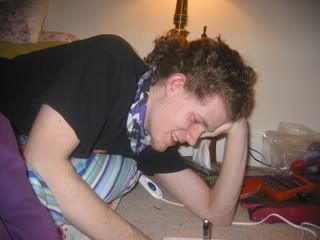 Seems like I've been doing nothing but reading and writing (well, and research) for the last couple weeks...O yea, and I've been sick for weeks now, which is really getting old, since there's not a whole lot to be done past coming how from classes and sleeping for hours. People like
(above) and have been keeping me occupied and on track with school work though- which is basically lots and LOTS of reading of ethnography texts for one class, and writings on social constructions through matrices of realities in the creation of the metropolis (so- things like time, capitalism as a money system, stereotypes to identify people, etc).

That being said, on to the recent finished projects!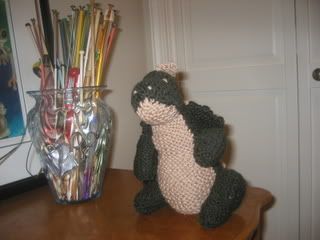 Pattern: Norberta from Knitty
Yarn: Green- cascade superwash Taupe/tan- Cashsoft dk
Notes: wrap the short rows even though the pattern says you don't have to- the difference isn't much since it's reverse StSt, but it still shows in a couple places where I didn't pick them up the next row. That being said, it's an easy pattern to follow, and made a great (though not super quick, sewing it up and stuffing it correctly takes longer than you expect it to)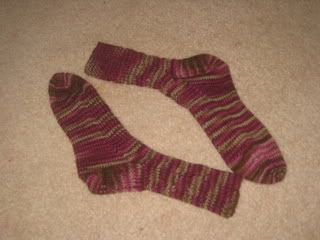 Pattern: My own, twisted rib with cables.
Yarn: Shepard sock in Vera- my favorite colorway!
Notes: I really like twisted rib for the cuff and shank of my socks, I have really narrow ankles and it defies stretching more than most other patterns do, and the cables help further draw it in a bit (and keep my occupied).