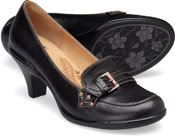 Aren't they just absolutely fabulous? (click the picture to see more...) I was threatened with my shoes being thrown out if I didn't find some new shoes that were appropriate for work. So...find shoes I did. I'm absolutely in love with these shoes, check out the soles on them!
As many of you might know or have already guessed, I have a penchant for dress clothes. I live in slacks-occasionally found off the rack, never in thrift stores, often tailored- and shirts that can only be deemed business-casual. People are often surprised when they meet me to find that I am only (I know, *gasp*) 20.
I'm having fun taking a bit of a break from classes, figuring out what I am going to do after the next 3 or 4 quarters of school, and eating lots of cereal (with milk, not good since I can't have a lot of dairy!). No sleeping in here though, I tend to get woken up early here daily.