Good things in the last week:
-Still sticking with YMOYL
-The crazy Scottish kilt party Saturday night (don't ask what "butt quarters" is. I wish I hadn't!), complete with professional bagpipist. I can now say I have lost hearing to "Happy Birthday" on the bagpipe. Those suckers are loud!
-Being able to give away a pink toilet on Craigslist for free.
-
Halva
(also spelled different ways) from TJ's.
-cracking open a coconut almost perfectly, baking almost the perfect bread (just a touch too sweet) and making delicious iced coffee.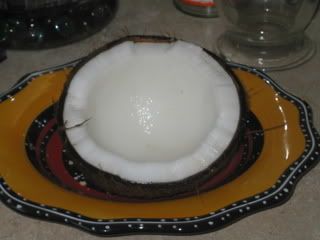 The bla:
-Dentist Appointment this friday early in the morning for cavities.
-Having to drive to Muktown to get to the appointment.
-Archeology.
-No really. Archeology.
-And again let me repeatL Archeology. So boring, and I have to have a discussion with the teacher about knitting in that class I think- much to the amusement of the handful of people I know in the class. Turns out there is even someone I went to highschool with in the class.
-8 hours in the car on Sunday and missing work.
-Still winding yarn at EH. This isn't bad for me, but it really should have been done awhile ago- the yarn takes 2+ weeks to fully mordant (how it is all going to fit in their fridges is beyond me!)
-The construction permit letting construction start at
6 freakin AM
gah! I need my sleep gosh darn it.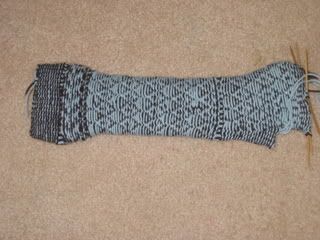 Gloves in progress. Notice my even floats! Ok, so that shouldn't really be a surprise since I just spent 4 weeks teaching colorwork, but I love that you can see the vine pattern I am working on on the back. These are lifeline mittens- the palm of the hand is pinstripes that are loosely inspired by all of those mysterious creases, folds, and crannies present in your hand that tell your future and life. Or at least make for interesting patterning in pinstripe.
The business side:
O. my. god. do I have new dyes. I am in the process of making colorcards and I think I am going to have to scale down the current offerings
for wholesale
. I will probably just offer 1 and two ply 100% wool yarns. I will still offer a variety of weights and styles (textured, thick and thin). Mostly in my sort-of-solid colors with seasonal or popular multi color options. The amount of yarn andf fiber for making the colorcards though is making my head hurt!
I am tempted to have the cards divided as such (instead of one for each type):
-1 card for roving solid colors
-1 card for yarn in solids in a single ply handspun
-1 card with a space for each lightweight, bulky, thick and thin, two ply lightweight, 2 ply heavy weight, two ply in two colors (barberpole), two tone yarns, 3 tone yarns
Since I do multi colors in small more seasonal batches right now, I guess that would have to be a separate colorcard all together- the line sheet for this is making my head hurt, but I know how to set it up in my cart.