Last week was one of those weeks where I don't even get the chance to turn on my computer a couple of the days. The afterthoughgt heel socks have been abandoned in favor of
Lorna's Laces in Vera
, a multitude of fairisle gloves and mittens, mobieus scarves in multiples, experiments in entrelac, handspun silk gloves, a handspun hat, and a number of other items now spewed across my floor drying (rain rain please go away! There are only so many places to hang my wet clothing! Never mind the wet shoes). Plus, the carpet was wet all last week from steam cleaning (note the foil on the legs!) making life much more difficult in order to get stuff dry.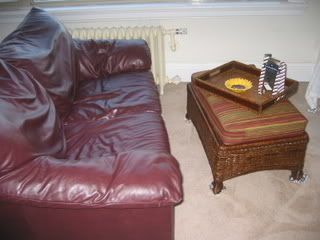 To be fair, most of the knitting was objects that had just a bit left, are patterns I am working on, etc so maybe finishing them will be the push I need to translate my scrawl-I-call-writing in to more then symbols so other people can read them!
But this was most of my last week: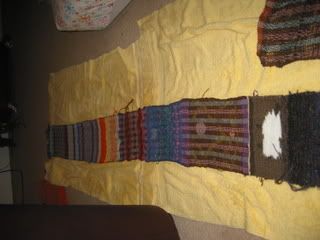 Giant weaving sample! Inlays, brocades, lots of twill (I might be in love with twill), some traditional rug weaving tapestry (see: sheep that is more square the sheep). Said traditional weaving is known as Sumac weaving and took me about an hour for every inch. It does look like knitting though, so that excuses it somewhat.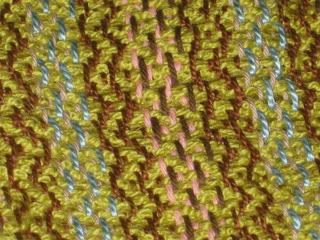 Playing with a rather random (and I suppose, unbalanced) twill pattern. Ive been playing around with learning drafting for various types of weaving, and it's like taking math 101 all over again.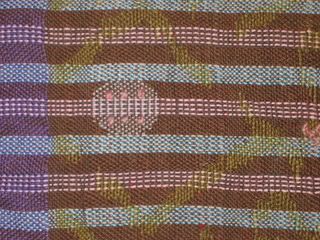 Probably my favorite piece (more or less unblocked here). I'm obsessed with pears right now and had to do a maze shape in inlay or brocade (though you will see some sumac in the seed and stem!) for a sample, so an abstract pear was born! I've also been cooking a lot with pears, which brings me to: